sergeant first class
Posts: 2,695
Absolutely amazing to believe that Amy Jo Johnson turns 45 today! I was only eight years old when Power Rangers began in the fall of 1993, but I vividly remember watching the promos for MMPR during that summer. I actually had a bit of a crush on Amy Jo while watching that show; of course, it was in MMPR that Amy Jo came to fame as Kimberly Hart, the original Pink Ranger. The franchise began with the original five Rangers:  Zack, Kimberly, Billy, Trini, and Jason; Tommy joined the fray a few weeks later. With the untimely passing of Thuy Trang in 2001, Amy Jo Johnson is the only surviving original female cast member.
Amy Jo was a regular for all three seasons of the MMPR incarnation, which saw Jason, Trini, and Zack phased out during Season Two and replaced by Rocky, Aisha, and Adam. Many fans (myself included) often wanted to see Kimberly hook up with Tommy, especially back when Tommy was in Green Ranger mode. Amy Jo left MMPR during the third season, with her character slowly being phased out once Katherine (who I also had a thing for) entered the scene.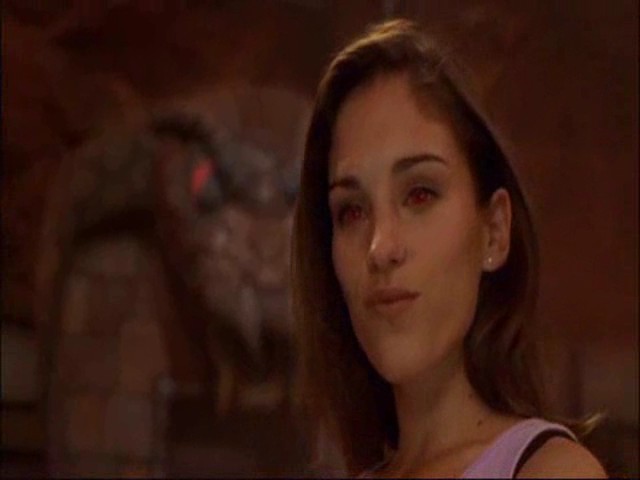 Amy Jo's last appearance (to date) in anything Power Rangers related was in the Turbo movie in 1997. She and Austin St. John reprised their MMPR characters in the film, which included a brief scene where both Kimberly and Jason actually turned evil. To this day, seeing Kimberly flashing her evil red eyes still captivates me. Kimberly's dialogue during her very brief heel turn was amazing as well, with her best line being her "Pink is out" statement to Katherine, who replaced Kimberly as Pink Ranger.
Amy Jo Johnson is a rarity; she has had more success after Power Rangers than any other cast member, including Jason David Frank. She was part of the cast of the WB series, Felicity, for several years as Julie Emrick, and later appeared on the ABC Family series, Wildfire, as the villainous Tina Sharp. Most recently, Amy Jo has played on Flashpoint and recurred on Covert Affairs; playing Hayley Price in the latter series' fifth and final season.