sergeant first class
Posts: 2,695
The week in women's wrestling began on Raw with Sasha Banks, Dana Brooke, and Bayley fighting for a Raw Women's Championship opportunity:
SmackDown Live featured the search for a new contender for Becky Lynch's SmackDown Women's Championship:
On the following evening's NXT, the budding Liv Morgan faced off against the villainous Rachel Fazio:
A #1 Contender's Gauntlet Match took place on the following evening's Impact Wrestling:
And that's the week in a nutshell! Thoughts:
At long last, Chelsea Green made her official Knockouts debut this past Thursday, doing so under the name Laurel Van Ness. Laurel was brought in by Maria Kanellis as a replacement for Allie, continuing Maria's abuse towards her assistant, and also establishing Laurel as a villainess. In the match, the evil Laurel eliminated Madison Rayne and Marti Bell before being eliminated by the match's winner, Gail Kim. Chelsea, of course, is coming off being a finalist on WWE's Tough Enough, which also featured fellow TNA Knockout Gabi "Raquel" Castrovinci. Before that, Chelsea made a memorable appearance on Raw as the villainous Megan Miller.
The latest edition of NXT featured Rachael Ellering making another jobber appearance. However, unlike her past appearances, Rachael displayed a villainous persona; entering with a heel demeanor and look. She also went by the name, Rachel Fazio; I'm guessing due to the fact that her father, Paul Ellering, appeared later in the program. I did like Rachel's heel persona, and if she does get signed, I could see some scenario where the evil Rachel aligns with her father and the Authors of Pain. 
Happy early birthday to WWE's Red Queen, Eva Marie, who will turn 32 tomorrow! Eva Marie received an early birthday present today, as her suspension officially ended. Before that, it was reported that Eva Marie will appear in an upcoming movie, Inconceivable, which will star Nicolas Cage and Nicky Whelan.  Eva will play Angela, the wife of Cage's character, and the couple brings in an abused mother named Katie (Whelan), along with her young daughter. Angela notices odd behavior from Katie that makes her question what Katie's true intentions are. No word on when the film will be released (obviously sometime in 2017), but filming will begin next month.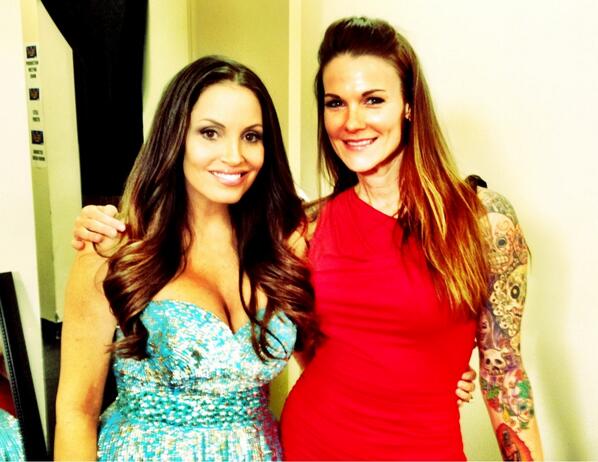 Hard to believe that this year marks a decade since Trish and Lita retired. Saturday was the actual 10 year anniversary of Trish's retirement, as she defeated Lita to win her seventh and final Women's Championship. Lita retired two months later after her appearance at Survivor Series. In the time that has passed since then, Trish had made a few guest appearances on WWE TV, and has also acted in a pair of movies. Lita recently became part of WWE as a producer and a trainer, and she currently appears on the WWE Network's pre-shows for Raw, SmackDown, Takeover events, and WWE PPVs. Both women are Hall of Famers; Trish was inducted in 2013, and Lita got in a year later. 
Even so, I've often wish for Trish and Lita to team up one more time, and to do so as heels. In the six years that they've co-existed in WWE, we've seen Heel Trish vs Face Lita, then the two were together as babyfaces beginning in 2001. Trish turned heel in 2004 and feuded with Lita again, and the end of both of their careers had Trish as a babyface against a heel Lita. They've never been together as heels, so when they teased a match between them and the Bellas, I was hoping for that to happen. I could see Trish and Lita attacking the Bellas from behind, and then leading to the match, the evil Trish could denigrate the Bellas for "ruining women's wrestling, while the evil Lita could agree with her villainous cohort and also berate the fans for supporting "women like them." Their "planned match" was for WrestleMania, and I could see Trish and Lita shedding their villainous personas after their bout and showing respect to the Bellas, regardless of the outcome.
A new week begins tomorrow, and is the final countdown to Clash of Champions! TNA is also on the home stretch for Bound For Glory, and we'll see what will happen with the KOs this week!
#1